Welcome, have a look around our hospital. We hope this provides you with some information about what goes on behind the scenes here at Ospika Animal Hospital. If you have any questions, please feel free to contact us.

---
Reception
Welcome. Here you will find the help you need from our friendly receptionists. When you arrive at Ospika Animal Hospital, Theo (our resident cat) will first ask to be petted, then the receptionist will make sure you and your pet are checked in. They will be glad to help you with booking regular and re-check appointments, billing inquires, and special needs boarding information.
---
Examination Rooms
When the veterinarian is ready to see you and your pet, you will be shown into one of our Examination Rooms. Here the veterinarian will examine your pet, administer vaccinations if required, and address any pet-care questions you might have. Our veterinarians are happy to examine larger pets on the floor, and give extra time and treats to nervous patients. We pride ourselves on making the experience for your pets as pleasant as possible. Depending on the nature of the visit, your pet may be lead into the treatment or pre-surgery areas.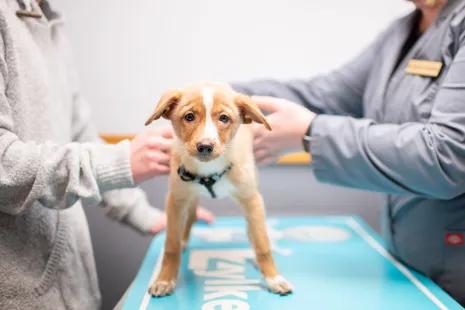 ---
Cat Friendly Exam Room
At Ospika Animal Hospital we have a special room for "Cats Only". We know how stressful vet visits can be for your cat, so we have a special area with cat toys, feline friendly odors and cat appeasing pheromones. Your cat is welcome to wander the room and get used to the environment.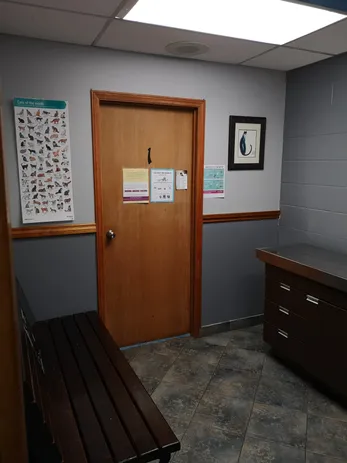 ---
Treatment Area
This area is used by our veterinarians and Animal Health Technicians (AHT) to perform minor treatments on your pet such as wound cleansing, blood collection, and ear cleaning. This is where we will take your pets if they need to come 'to the back'. We often perform routine procedures in this area instead of the exam room to employ safe, efficient restraint by one of our knowledgeable staff members. Keeping your pet calm and our staff and patients safe is a top priority for us, and sometimes that requires a professional holder.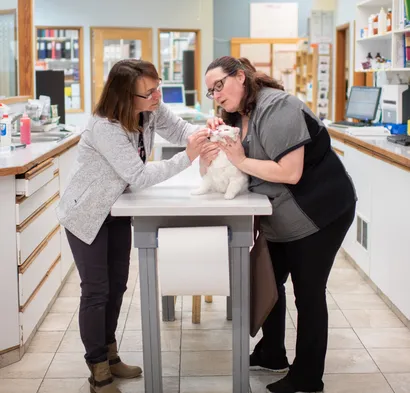 ---
Minor Surgery & Dental Area
Less invasive surgeries are performed in this area. This often includes abscesses, lacerations, urinary blockages and quill removal.
We are proud to have a fully modernized dental suite to provide your pet with excellent dental care. Our dental suite boasts equipment of the same caliber used in human medicine.
Dentistry always begins with a thorough scaling of the teeth both above and below the gums, followed by an exploration of the mouth to determine the level of periodontal disease your pet may have. Dental radiography is used to look at the tooth roots and assists in the diagnoses of infected teeth, bone loss any other abnormalities. Once we have full mouth x-rays we can determine the best course of action to keep your pets teeth healthy. Come in anytime for your pet's free dental estimate.
This area also includes our 'ICU' kennels. This allows us to keep a very close eye on any patient requiring special or intensive care, such as patients who are in critical condition or who have had a high risk surgery or anesthesia.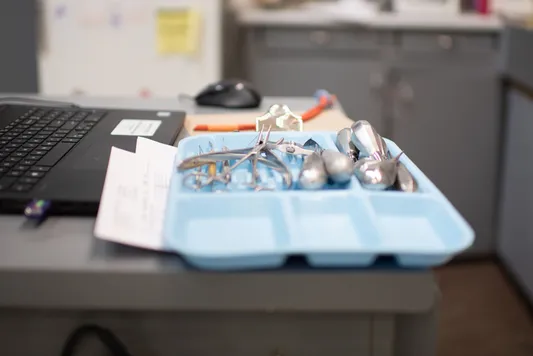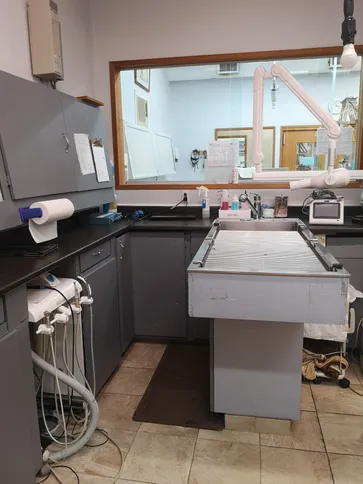 ---
Surgery Suite
Our operating room is a sterile surgery suite equipped with two surgical tables and modern anesthetic monitoring devices. The surgeries performed here range from elective spays and neuters to lumpectomies, C-sections to orthopedic surgeries. Our veterinarians have experience performing a wide array of complicated surgeries and we often have patients referred to us from other practices. The surgical aspect of veterinary medicine is very similar to human medicine in that we have strict sterility protocols, careful anesthetic monitoring and we strive for excellent pain control for our patients. Our veterinary technologists induce anesthesia, monitor your patient throughout surgery, and recover them afterwards, providing continuous patient care throughout the procedure. After your pets surgery is complete they will return to their kennel with plenty of warm blankets and hot water bottles. They are monitored by staff until the time they go home with you.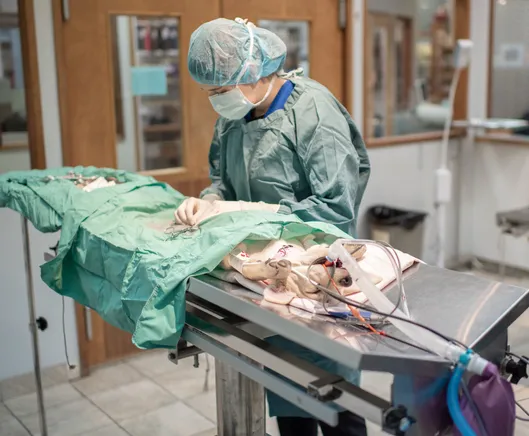 ---
Radiology
Ospika Animal Hospital is equipped with modern x-ray and ultrasound equipment. With the use of this equipment, our veterinarians are better able to diagnose any internal problems an animal might have. Radiographs can diagnose not only broken bones, but lung and heart issues, abdominal problems and foreign objects that have been ingested. Dr. McLachlan has a passion for ultrasonography, which is often used to examine the bladder, kidneys, liver and other organs. You can also request to have any images emailed to you, or we can email directly to a specialist for further consultation.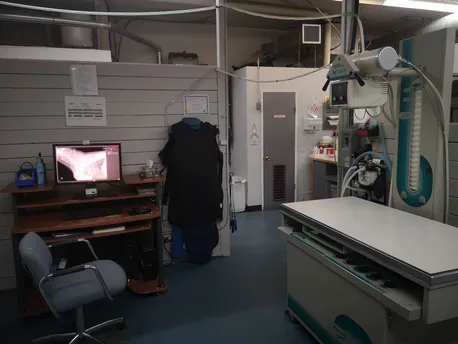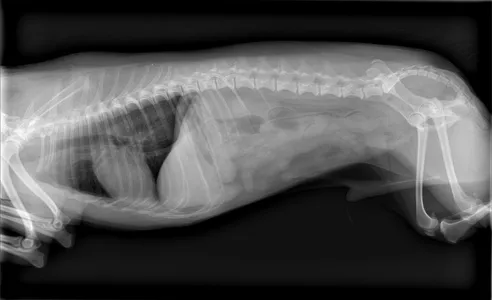 In-House Laboratory
Ospika Animal Hospital is equipped with a full in-house laboratory. This allows us to provide pet owners with a quick and accurate diagnoses of their pet's condition. Blood and urine samples are collected in our treatment area by our highly skilled AHT's, after which we immediately process them to have results within about an hour. In our lab we are able to do hematology, blood chemistry, urinalysis, microscopy, parasite identification and fecal flotation. For more specialized testing we can collect samples to send to a pathology lab in Vancouver .
Pharmacy
For the convenience of our clients and their pets, Ospika Animal Hospital maintains a well stocked veterinary pharmacy. Staffed during business hours, the pharmacy can provide medication prescribed by our veterinarians before you leave the hospital. The pharmacy also carries a range of pet dewormers, herbal remedies, and other over the counter medications.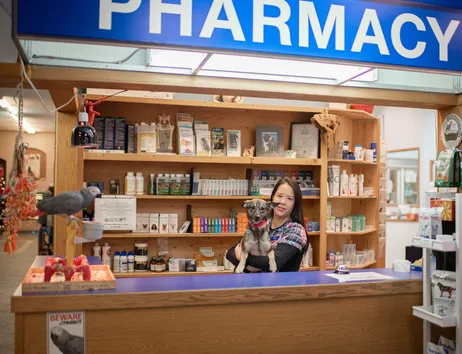 ---
Kennels & Exercise Area
Our kennels are comfy and well maintained by our friendly caring staff who take pride in providing the best care for your animal. This is where patients stay when hospitalized or here for a procedure.
We are proud to announce that we now have different areas of the clinic dedicated to each species, to reduce stress for our patients. We have a dedicated cat ward, complete with Feliway and hide boxes, away from the noise of barking dogs. Our canine patients are on the opposite side of the clinic in our dog ward.
Our outdoor exercise area allows your pet to have the freedom to play... just like home. Ospika Animal Hospital and our sister store Ospika Pet and Farm offer boarding services. Through the clinic we primarily board special needs animals or pets needing medication. We do our best to accommodate all special requests.
---